Be the first to own your custom designed IMPACT F1 FLIP FLOPS. Head over to our Kickstarter page to reserve your pair.
REMAINING FOR YOUR CHANCE TO PURCHASE THE FIRST IMPACT F1 FLIP FLOPS ON KICKSTARTER
I created Impact Footwear to change the way we think about flip flop sandals. For far too long, our consumer culture has bought into the idea that flip flops are cheap, throw away products that do damage to your feet and disposable. There had to be a better way to make a product that hundreds of millions of people buy and wear. Better not just for us, but also for the environment.
We set out to change the current process where over 95% of the production of flip flops occurs overseas using injection molded plastics and EVA foam. These flip flops are made cheaply and in mass production factories where inventory is then transported across the world contributing to even more pollution. The materials and processes used create a product that ends up in a landfill after a short amount of wear time. There had to be a better way!
You don't have to be a shoe designer or a CAD specialist to create your own pair. We take all the hard work out of making a custom flip flop. It all starts with our 3D design tool where you become your own flip flop designer. Choosing from over 1 million unique combinations, you can design your flip flops to meet your specific needs.
Choose your insole, midsole, and outsole designs. Pick the color of your foot bed and removeable upper to match your personal style. Select from 4 uniquely designed lattice types to best fit the type of activity and support you are looking for.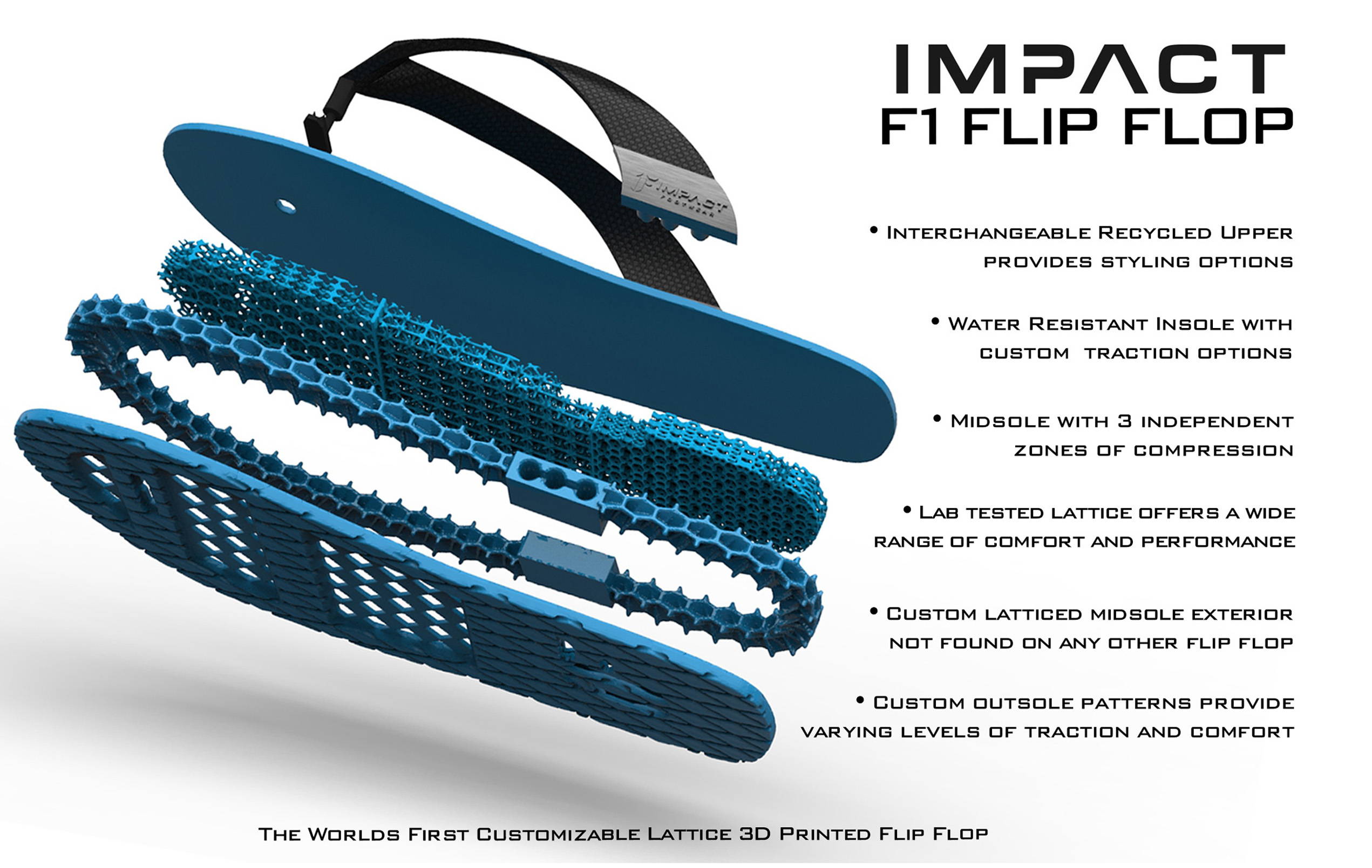 Get the lowest price ever on these incredible custom flip flops. You won't want to miss out on being the first to own a pair of IMPACT F1's